Aluminum Railings Designed & Pre-built To Fit Your Deck!
Modern Styling.... Lifetime Lasting Beauty
Cable Railings are a new trend for the simple sleek modern look. It allows for an unobstructed view with a strong design. All cables are constructed out of stainless steel materials for a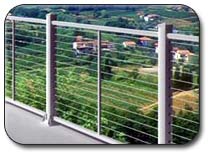 maintenance free system that will last for a lifetime of use. Like all of our different railing styles, it is available in all four post/rail configurations. Since all materials come pre-fabricated for your individual deck, installation is a breeze. Simply locate the positions for the post and rail assemblies and install. After the complete hand railing system is fastened down, slide all the cables through the pre-drilled holes in the post and single picket. Install the hardware and tighten up the cables. A very simple task for any level of experience.
We strive to offer only the highest quality hand railing system with little to no fabrication involved. All of these extra benefits we provide to every customer are the best way to ensure you receive the quality and safety you deserve.